Maximize the moments between events
Hosting your wedding weekend at Kimpton's Hotel Monaco means giving your guests access to the very heart of Philadelphia's Old City. They'll be steps away from some of America's most significant landmarks. We're talking about places like the Liberty Bell, Betsy Ross House and the room where the Declaration of Independence was signed. With an abundance of museums, galleries, landmarks and boutiques to choose from, the only trouble your guests will have in Philadelphia is deciding where to go next.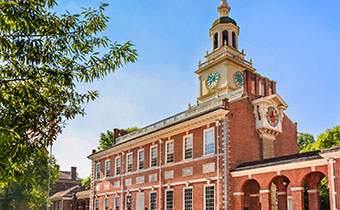 A Couple Hours
Independence Hall is merely the birthplace of both the Declaration of Independence and the constitution of the United States of America, no big deal. Joking aside, a visit to Philadelphia would be incomplete without a stop to this significant historical landmark. You can even spy the actual inkstand used when the Declaration of Independence was signed.
Steps from Independence Hall is the Liberty Bell Center, where you'll enjoy 360-degree views of one of America's most recognizable symbols of freedom.
The Betsy Ross House, a half-mile stroll from the hotel, is the former home of the Quaker upholsterer best known for making the first American flag. You can even "meet" Betsy in the courtyard.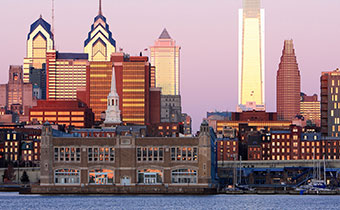 Half a Day
Shop and snack your way through Philly's popular Reading Terminal Market. Sample flaky pastries, smell bouquets of fresh flowers, admire beautifully handcrafted jewelry and fine linens, all while appreciating the historic building that houses one of the country's oldest public markets.
Set aside a chunk of time to meander through the 100,000-square-foot National Museum of Jewish History, which celebrates the many stories of Jewish-American history and identity.
To add a literary flair to your Philadelphia visit, stop by the Edgar Allan Poe National Historic Site for a tour of the house where the author penned some of his most famous (and creepiest) works.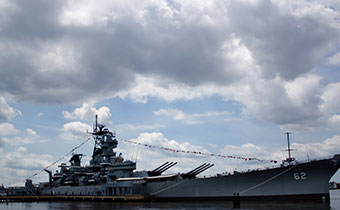 A Full Day
Stroll along the Delaware riverfront at Penn's Landing, a sprawling extravaganza of entertainment with endless activities and eateries perfect for the whole family. In warmer months, catch an al fresco yoga class or take in a concert. When the temperatures drop, there's ice skating and beer gardens to warm you up and to keep you entertained.
Just across the Delaware River is the Adventure Aquarium, home to some 15,000 aquatic creatures ranging from little blue penguins (the smallest species of penguins on earth!) to massive Nile hippos.
Across the river you'll also find America's most decorated warship, the Battleship New Jersey. Now an interactive museum, the battleship brings history to life: from the commander's chair to the troop bunks, you'll get an up-close and personal view into the history lived by the ship's crews—spanning an impressive total of four wars, from World War II up to the Gulf War.